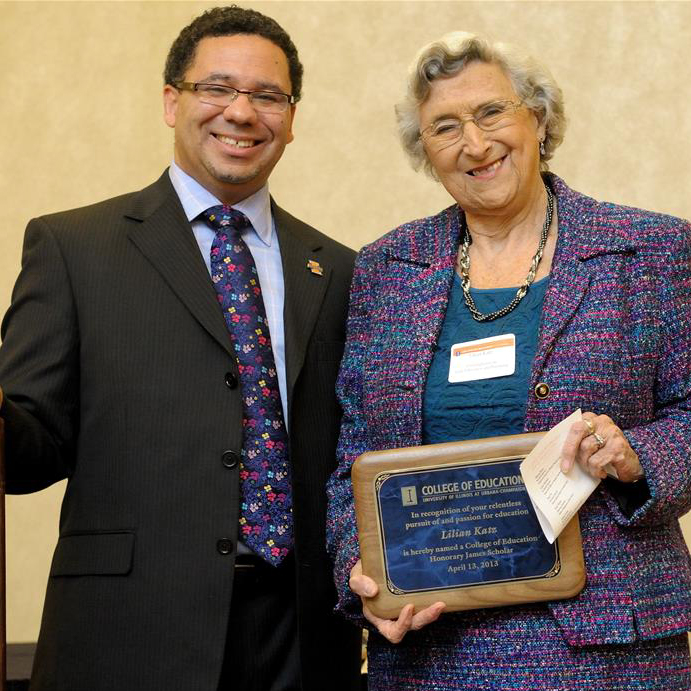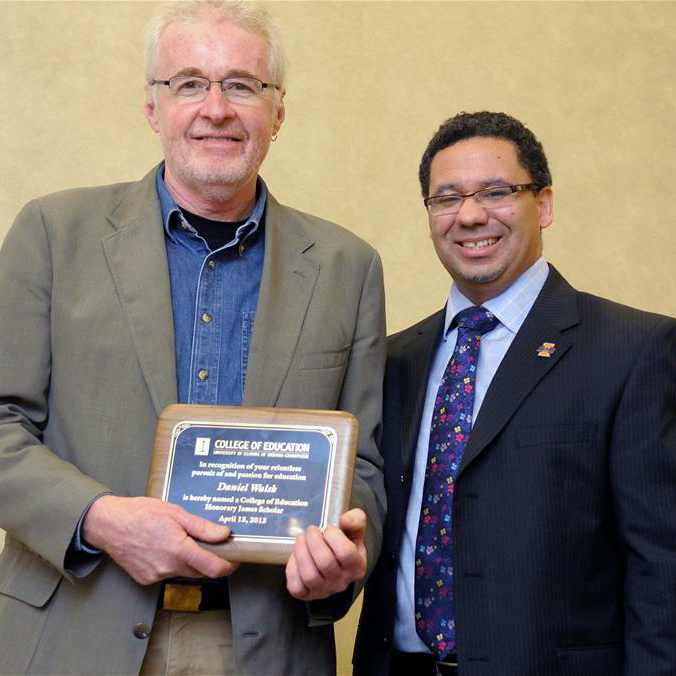 James King

Mr. James King earned his online Master's degree in Education Policy, Organization and Leadership. He was admitted to the University of Illinois in 1966 but could not attend. Instead, he went into the Marine Corp and served in Vietnam. When he returned, he went to college and earned over 200 certificates of training and development.

After retiring as an electrical engineer, and after still holding on to the original admissions letter, he decided to enroll at the University of Illinois Master's program.

Shortly after enrolling in 2008, he was diagnosed with esophageal cancer. After surgery and a stay in an Intensive Care Unit, Mr. King started his online classes at home and studied through his illness. He said it took him 45 years to get the degree he always wanted.

Mr. King passed away on April 27, 2013, at the age of 64. He had a deep admiration for the College of Education and the University of Illinois and he received his master's degree in Human Resource Education during a special presentation in his home in December 2012.
James Anderson

Dr. James Anderson became a graduate student in 1966 in the College of Education at UIUC.

He has held key leadership roles in his 40+ year tenure at the University of Illinois. Dr. Anderson is the Edward William and Jane Marr Gutsgell Professor of Education; the Head of the Department of Education Policy, Organization and Leadership; the Executive Associate Dean for the College of Education and affiliate Professor of History. His scholarship focuses broadly on the history of U.S. education, with specializations in the history of African American education in the South, the history of higher education desegregation, the history of public school desegregation, and the history of African American school achievement in the 20th century. His book, The Education of Blacks in the South, 1860-1935, won the American Educational Research Association outstanding book award in 1990. He is senior editor of the History of Education Quarterly. Anderson has served as an expert witness in a series of federal desegregation and affirmative action cases, including Jenkins v. Missouri, Knight v. Alabama, Ayers v. Mississippi, Gratz v. Bollinger, and Grutter v. Bollinger. He served as an adviser for and participant in the PBS documentaries School: The Story of American Public Education (2001), The Rise and Fall of Jim Crow (2002) and Forgotten Genius: The Percy Julian Story. He was elected to the National Academy of Education in 2008. In 2012, he was selected as a Fellow for Outstanding Research by the American Educational Research Association and received the Lifetime Achievement Award from the American Association of Colleges for Teacher Education. In 2013, he was selected Center for Advanced Study Professor of Education Policy, Organization and Leadership at the University of Illinois.
Lilian Katz

Dr. Lilian G. Katz is Professor Emerita of Early Childhood Education at the University of Illinois (Urbana-Champaign) where she is currently on the staff of the Clearinghouse on Early Education and Parenting (CEEP). Dr. Katz is a Past President of the National Association for the Education of Young Children, and the first President of the Illinois Association for the Education of Young Children. Dr. Katz is currently Editor of the first on-line peer reviewed trilingual early childhood journal, Early Childhood Research & Practice (English, Spanish & Chinese).

Professor Katz is author of more than one hundred publications including articles, chapters, books, pamphlets, etc., about early childhood education, teacher education, child development, and parenting of young children. For thirteen years, she wrote a monthly column for parents of three- and four-year-olds for Parents Magazine.

Dr. Katz was founding editor of the Early Childhood Research Quarterly, and served as its Editor-in-Chief during its first six years. Her most recent book (co-authored with J. H. Helm) is Young Investigators: The Project Approach in the Early Years. Her book titled Talks with Teachers of Young Children (1995) is a collection of her best known early essays and several more recent ones. In 2000 she published the second edition of Engaging Children's Minds: The Project Approach, co-authored with S. C. Chard. It has been translated into several languages, as have many of her other works.

Dr. Katz has lectured in all 50 US states and in 55 other countries. She has held visiting posts at universities in Australia, Canada, England, Germany, India, Israel, the West Indies (Barbados campus) and many parts of the USA. Dr. Katz is the recipient of many honors, including two Fulbright Awards (India & New Zealand), an Honorary Doctor of Letters degree (DLitt.) from Whittier College, Whittier, California and an honorary Doctor of Philosophy from the University of Goteborg in Sweden. In 1997, she served as Nehru Professor at the University of Baroda in India.

Professor Katz, was born and raised in England and became a US citizen in 1953. She received her B.A. degree cum laude from San Francisco State University (1964) and her Ph.D. in Psychological Studies & Education from Stanford University in 1968. She and her late husband Boris Katz have three grown children, five grandsons and one granddaughter.
Daniel Walsh

Dr. Daniel Walsh has been working in early childhood education since the late 60's. For a dozen years, he was a preschool and kindergarten teacher. He worked in Head Start in Chicago and San Diego, in child care in the Sand Francisco Public Schools and in a Child-Parent Education center–in Lawndale in the Chicago Public Schools.

His Masters is from San Francisco State University and his doctorate is from the University of Wisconsin–Madison.

Dr. Walsh has been teaching at universities since 1985–four years at the University of Virginia and 23 years at the University of Illinois at Urbana-Champaign. He has been teaching for 45 years and counting. He teaches the core two-course sequence in the early childhood teacher education program and graduate courses on research methodology and cultural psychology. He has worked with students from all over the world–one graduate course this Fall had students from 13 countries.

His teaching and research seeks to shift Early Childhood Education, both daily practice and the education of teachers, away from an acultural, highly structural, and romantic developmentalism to a culturally informed, systemic developmentalism that is attuned to what Lee Cronbach called "contemporary realities."

Dr. Walsh has written a fair amount, both in journals and books and has presented at conferences in the US, Japan, Korea, Taiwan, New Zealand, and Portugal. He has just completed a book on teaching titled, The Craft: A Short Introduction to Teaching. He is finishing a second book, a sequel to The Craft called Tricks of the Teaching Trade.