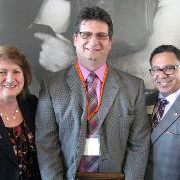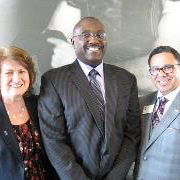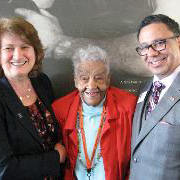 Randy Fletcher

Mr. Randy Fletcher is the Dean of Career and Transfer Programs at Parkland College. He is also a doctoral student in the Department of Education Policy, Organization and Leadership in the College of Education. He will complete his doctorate in May 2015. At Parkland, Mr. Fletcher assists the Vice President for Academic Services in organizing, supervising, and evaluating the College's 140 programs and nearly 600 faculty. He has received the National Council of Instructional Administrators Exemplary Initiative Award, the Community College Leadership Fellowship from the College of Education and the Illinois Career & Technical Education Leadership Institute Fellowship.

He has co-authored scholarship on the institutional approaches to fostering academic success among males of color and has published his research related to retention and to student success through a culture of collaboration, integration, and innovation. He has authored or co-authored more than 20 grants and he has been absolutely invaluable to the success and education of countless students at Parkland and in the Champaign-Urbana community. He has also been an excellent ambassador for Parkland, and an instrumental partner with the University of Illinois. People feel a sense of indebtedness to Mr. Fletcher for his stalwart belief in the transformative power of education and his unrelenting concern and care for every student and colleague he works with. He firmly believes that everyone should have the opportunity to learn so that they can reach their highest potential.
Preston Williams

Dr. Preston L. Williams Jr. is the former superintendent of the Urbana School District; he is also an alumnus of the College of Education, receiving both his master and doctorate from the College. Dr. Williams has served numerous roles during the more than 26 years in the Champaign-Urbana communities. He has been a teacher, a coach, an assistant principal, the deputy superintendent for curriculum and instruction in Urbana, the first African American to serve as superintendent of Urbana school district 116, and a role model and mentor to countless people in the community. Dr. Williams has had such a positive influence that most recently, it was agreed that Prairie Elementary School in Urbana would be renamed the Dr. Preston L. Williams Jr. Elementary School.

"Keep students first... no matter the situation" has always been the motto of Dr. Williams. Throughout his career, he has been instrumental in improving the lives and educational opportunities of schoolchildren, particularly schoolchildren who needed a little bit more than some of their peers. He sought to hire more African American teachers and administrators, and to diversify the district's curriculum to ensure that students learned that diversity was not simply a concept but a way of life. And he asked the Urbana school district to foster innovation in teaching and learning to ensure students were provided the knowledge, skills, and character to help them achieve their own personal greatness.
Teretha Johnson

Mrs. Teretha Johnson is a former teacher in Champaign and also an alumnus of the College of Education. ]She received a Bachelor of Science degree from Morris Brown College in Atlanta, Georgia in 1946, and a Master's in Education from the University of Illinois at Urbana-Champaign in 1974.

She was an elementary school teacher for her entire professional career, starting in the 1940's in schools in Georgia and then Virginia, and from 1953 until 1982 in Champaign schools including Lawhead, Washington, Marquette, and Bottenfield. She helped integrate Champaign public schools in the 1960's when she became the first black teacher at a predominately white school. She finally retired from teaching in 1982. Among her students are Maynard Jackson, the first African American mayor of Atlanta, Georgia in 1974, and Don Gerard, the current mayor of Champaign, Illinois.

Among other civic activities, she was active for more than 50 years in her sorority, Alpha Kappa Alpha Sorority, (serving two terms as president of the graduate chapter in Champaign-Urbana). She has been a stalwart member of Bethel A.M.E. Church in Champaign for more than 65 years.

Mrs. Johnson turned 100 years old last September.